ABOUT THE AXCES GROUP
The Axces Group consists of several Axces divisions working closely together to bring you the best possible solution in exhaust systems. Each Axces division has profound knowledge and experience in its own specialty and is equipped with the best tools to apply that knowledge.
All focussed and highly specialized around the design, engineering, production and fitting of exhaust gas systems for use in the Marine, Industrial and Energy markets. Whether you choose complete Fully- Integrated Exhaust Systems , Water Injected Exhaust Systems, Emission Control or more limited solutions, you will always benefit of Axces' competence and knowledge!
Because Axces is present worldwide, the Axces Group through cooperation between the different parts, has always quick access to the latest technologies. This means Axces can deliver the best possible exhaust system for every conceivable situation for the lowest price possible and at the best conditions.
MISSION
To provide a complete variety of products and services, controlling the output of all flue gasses. Based on Noise & Vibration, Emission Reduction, Diffusing, Flow Guiding, Construction and Heat Transmission. The vision statement provides an unique and complete scope of the these skills via intergrated, custom built and total solutions.
VISION
Provide a complete and unique portfolio covering all the skills needed to control the output of flue gasses toward its customers by innovative and intergrated solutions.
CORE VALUES
Provide an overview and perception of all topics and disciplines around the output of flue gasses, supported by the skills in the fields of team work, high preformances and effectiveness.
Divisions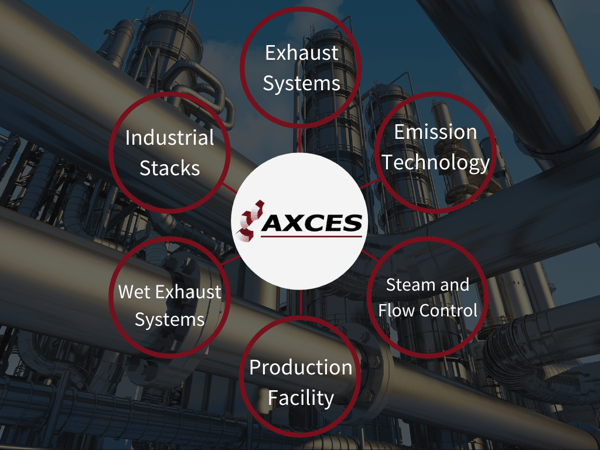 ---