STEAM AND FLOW CONTROL
Q.E. International B.V. was established in 1979. In April 2019, Q.E. International B.V. was acquired by The Axces Group. The official company name after this point will become Axces Steam and Flow Control B.V. while the trade name will remain Q.E. International. Read more here.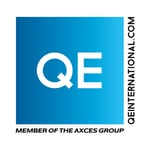 Axces Steam and Flow Control (ASFC) is the expert on working towards a quieter and safer industrial environment. With innovative solutions in the field of noise, vibration and pulsation, ASFC sets a higher standard than the competition. Solving a broad range of noise pollution issues worldwide built the reputation suitable for an international organisation. Custom products ensure that the noise pollution problems are dealt with in an adequate manner. The knowledge is broad and safety is important. ASFC helps your company with handling precision equipment, calculations, legal requirements and mandatory approval.
CUSTOM DESIGNS
ASFC has also specialised in designs of silencers to comply with customer specifications. The extended experience is at your disposal in solving complex noise problems and in the translation of extreme demands into practical solutions and our continuing drive to be leaders in our chosen fields is evidenced by the successes that they have demonstrated. ASFC produces various industrial silencers and provides advice according to the customer's wishes.
Below several products ASFC produces.
---
Vent Silencers
Aerzen Nederland B.V
Air Products Benelux B.V.
P. Refinery
Borealis Kallo N.V.
Dow Chemical B.V.
ExxonMobil (worldwide)
Gunvor B.V.
Hurll Australia Pty.
Kisuma Chemicals
Ineos
Lukoil
Lyondell Chemie Nederland BV
Nyrstar Budel B.V.
Sabic
Shell (worldwide)
UOP Honeywell
Wepa Nederland B.V.
In-line dampeners
N.A.M.
GEA Germany
Iv Oil & Gas
Keppel Seghers
Sabic
ThyssenKrupp
Pulsation dampeners
Aerzen Belgium
Aerzen Germany
Aerzen nederland B.V.
A.S.F
Bush
Gardner Denver
Howden UK
Howden USA
Siemens
Trinseo


Absorber dampeners
Aerzen Belgium
Dow Chemical B.V.
GEA Wiegand
Keppel Seghers
Kuraray
Neles
Sabic
UOP Honeywell
Wood
EPC Contractors
Fluor
KH Engineering
McDermott
Tecnicas reunidas S.A
Thyssenkrupp
Wood
Jacobs Engineering
JGC Corporation
Paul Wurth
TechnipFMC
Petrofac
Tecnimont
Diffusers
Emerson
MAN Energy Solutions
Neles
Orton Italy
Separators
A.S.F. GmbH
Esso Chemical Belgium
Hurll Australia Pty.
Iv Oil&Gas